CMFD Participating in Scientific Study of Mulch Flammability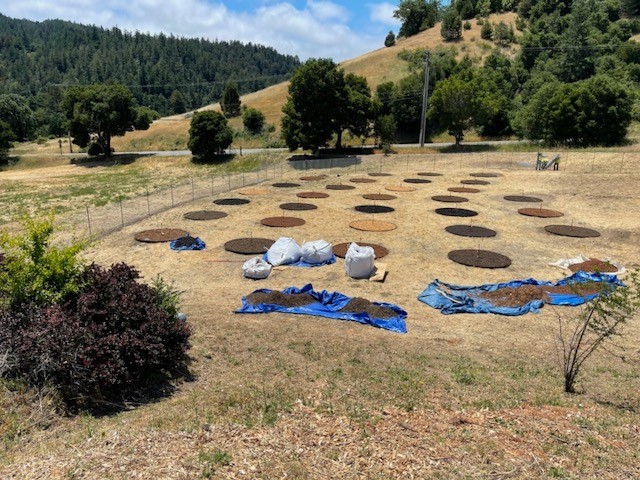 A coalition of agencies, industries, and scientific organizations have partnered to conduct a scientific study to evaluate the relative flammability of various mulch products sold in Marin. Choosing the right mulch in wildfire prone areas is important. Some mulches can ignite and spread fire quickly. Others are less easily ignited and take longer to burn. Questions about the safety of various types of mulch are some of the most common questions referred to Fire Safe Marin. Until now, there has been a lack of scientific data to compare various mulch products.
Mulch products have been separated into piles and placed in the field next to the Marin County Fire Department headquarters in San Geronimo. The product will dry and weather for approximately four months to simulate the condition of mulch found in Marin yards and landscapes. In the fall of 2023, the plots will be burned. Marin County Fire Department firefighters will be on scene to ensure safety. Instruments will be used to measure flame length, rate of flame spread and radiant heat.
This study will enable residents to make informed decisions about the use of fire resistant mulch products.
The following organizations and agencies are participating in this study:
Cal Poly Humboldt
Central Marin Fire Department
County of Marin
Fire Safe Marin
Marin Wildfire Prevention Authority
Ron Alexander & Associates
UC Cooperative Extension
UCCE Marin Master Gardeners
UCCE Humboldt/Del Norte
University of California Berkeley
UL Research Institute
USDA Forest Service Missoula Fire Science Laboratory
West Marin Compost
Z-Best