Employment Opportunity: Lateral and Entry Level Firefighter-Paramedic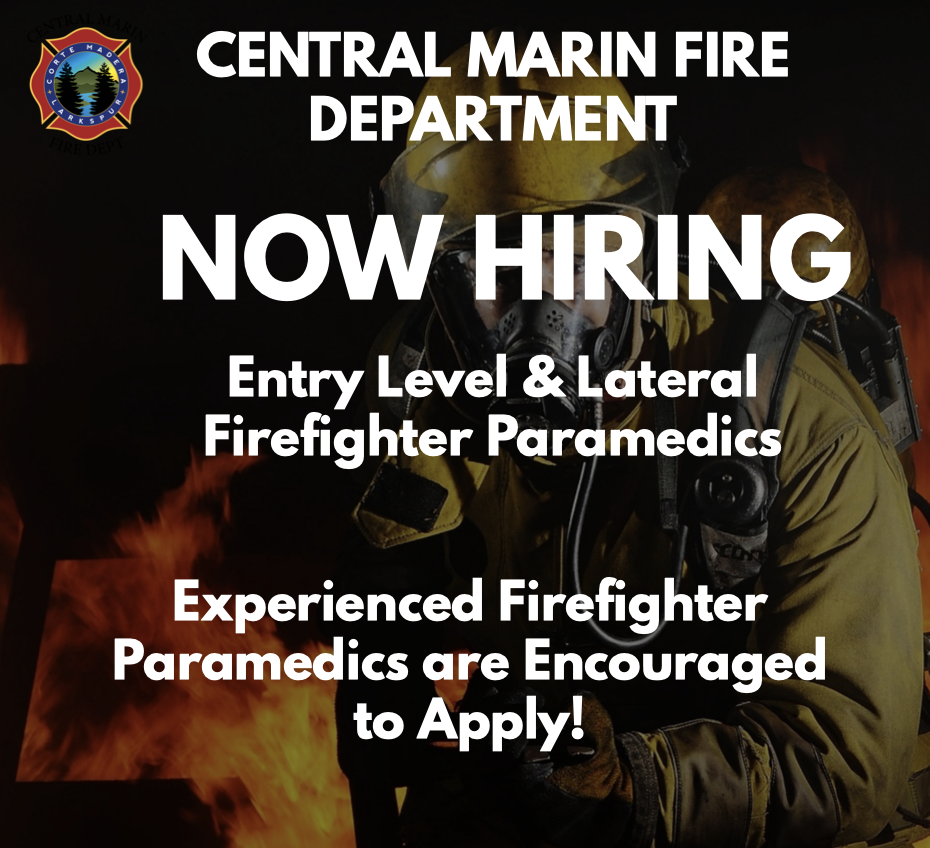 Announcing and employment opportunity for Firefighter-Paramedic with Central Marin Fire Authority.
$95,921.28 - $116,625.60 Annually
Placement on salary schedule may be influenced by experience
Filing Deadline
Open until filled! Job posting, information, and application available at: https://www.governmentjobs.com/careers/centralmarinpolice/CMFA or follow the link at www.centralmarinfire.org/admin/employment
TO BE CONSIDERED
If you are interested in this outstanding career opportunity, please submit your application online at https://www.governmentjobs.com/careers/centralmarinpolice/CMFA. If you have questions regarding this recruitment, please contact our Human Resources Manager, Janet Thiessen, at This email address is being protected from spambots. You need JavaScript enabled to view it. or by telephone or text at (209) 321-3936. Please ensure you leave your name, phone number and reason for calling.
Incomplete applications will not be accepted. Application are open until filled.
Candidates will receive all communications by email regarding the recruitment process, which includes, but is not limited to, application status and interview scheduling. If you require an alternate means of communications, please contact Human Resources Manager Janet Thiessen at This email address is being protected from spambots. You need JavaScript enabled to view it. or at (209) 321-3936.
SELECTION PROCESS
The qualifications of each applicant, as set forth in the employment application, will be reviewed.
All applicants must meet the minimum qualifications for the position of Firefighter-Paramedic including possession of required certifications. Proof of the required certifications must be submitted with the application.
Valid Paramedic License with current and continuous certifications in, or the ability to complete these certifications within the first (6) six months from date of hire:
Advanced Cardiac Life Support (ACLS)
Pediatric Advanced Life Support (PALS) or acceptable equivalent