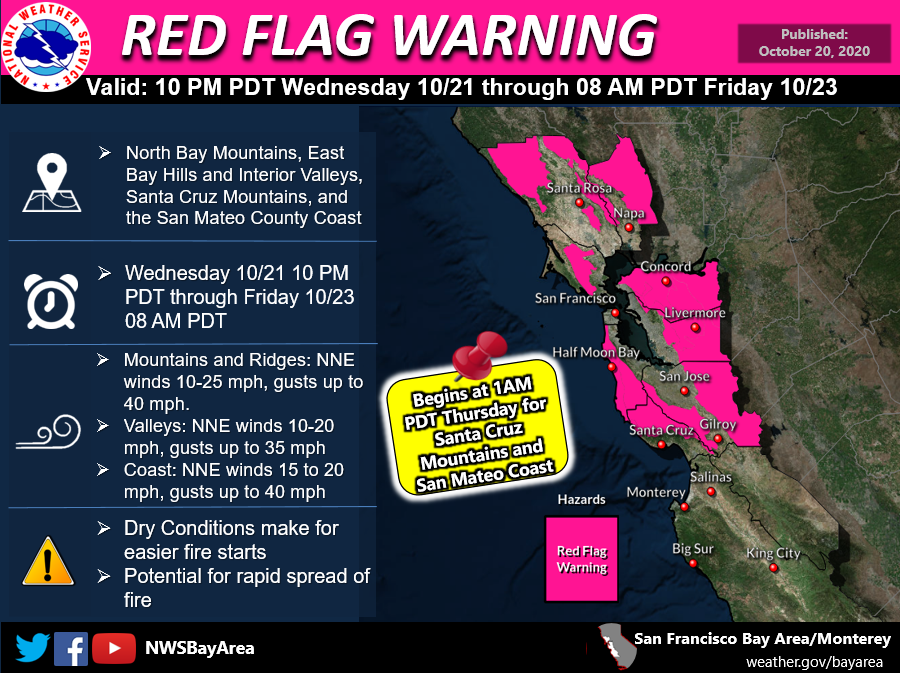 The National Weather Service has issued a Red Flag Warning, in effect for ALL areas of Marin and the North Bay through Friday morning (10/23/2020). Learn more about Red Flag Warnings and fire weather at www.firesafemarin.org/fire-weather. Double check your family's evacuation readiness at www.firesafemarin.org/evacuation today!
The Red Flag Warning means critical fire weather conditions are being observed now. Now is the time to prepare.
---
The National Weather Service issues Red Flag Warnings & Fire Weather Watches to alert fire departments of the onset, or possible onset, of critical weather and dry conditions that could lead to rapid or dramatic increases in wildfire activity.

A Red Flag Warning is issued for weather events which may result in extreme fire behavior that will occur within 24 hours. A Fire Weather Watch is issued when weather conditions could exist in the next 12-72 hours. A Red Flag Warning is the highest alert. During these times extreme caution is urged by all residents, because a simple spark can cause a major wildfire. A Fire Weather Watch is one level below a warning, but fire danger is still high.

The type of weather patterns that can cause a watch or warning include low relative humidity, strong winds, dry fuels, the possibility of dry lightning strikes, or any combination of the above.